I Want to Compress My PDF File, What Should I Do? [Resolved]
Large PDFs are quite unmanageable, and users often search for a reliable solution for resolving this problem. Moreover, the fixed nature of PDF files also makes it difficult to remodel the existing PDF files.


Online Compression Tools
The internet has uncountable online tools that can be used for reducing the size of PDF files. Online tools are easy to use, and most people prefer to use them because of the direct approach. Upload your file, edit it, and download the new document.


Drawbacks of Online Compression Tools
Online tools for compressing PDFs mostly don't need to install anything, but they have some unignorable drawbacks.

Security Risk: online compression tools are insecure in usage. The entire document is uploaded to the site. These sites save your information and documents for future reference. Sensitive information in the PDF files can be leaked from the server of these online tools.

Change in the layout: most of the online tools fail to retain the original layout of a compressed document. They add their logos and watermarks as part of the editing process.

Poor quality: online tools used to compress the PDF files provide low-quality output. Online compressed PDFs are neither zoomable nor printable most of the time.

Challenging to use: these PDF editors do not have a much user-friendly interface. It takes a long time to get along with online tools.


Downloadable PDF Compressing Software Tools

Regular PDF users should download tools for compressing their PDF files. Downloadable PDF compressors have the following advantages over online compression tools.

One Time Download: downloadable compressors are installed once in the PC and used again and again. Most PDF Compressors can be used without a data connection.

No security issues: programs installed on your PC do not save your documents in the server without your permission. That makes them more secure than online tools.

High-quality output: downloadable PDF compressors allow the users to control the quality of the output files. By customization of settings, the standard of the compressed files can also be controlled.

Easy to use: most downloadable PDF Compression softwares are based on easy to use approach for compressing PDFs.

Add your files, set compression values, and get output.


The Best PDF Compressor
Now the question changes from "I Want to Compress My PDF File, What Should I Do?" to "Where can I find the best PDF Compressor for my PDFs?"

That is the most frequently asked query about the PDF files. People using PDFs can tell you how frustrating it is to see PDF files taking hours to upload and emails getting rejected due to the gigantic volume of PDF files. To pass through the issues related to large PDFs, you can use PDF Compressor.


Introduction of PDF Compressor App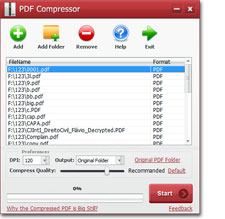 PDF Compressor, as the name suggests, is a downloadable desktop program that shrinks the volume of PDF files. It does not change the original interface of the compressed file. Instead, it lets the users set requirements for the compressed PDFs. By setting the compression ratio and DPI values for text and image files, you can control the output quality of compressed files. This easy to use compressor only takes 15 MB for downloading.




How to Use PDF Compressor?


PDF Compressor has straightforward steps for compressing images and text files.

1. Download and get your copy of the PDF Compressor and run it on your PC after installing it.

2. Select the number of PDF documents you want to compress and upload them to the PDF Compressor. Tap on the "Add" button for selecting files or drag your PDFs to the file box.

3. Set DPI values and compression ratio for chosen PDFs (DPI value has nothing to do with text PDF files)

4. Set the storage location for the compressed PDFs. These are the options for selecting storage paths — Overwrite, Customize, and Original. (Overwrite Original option replaces the original document with compressed PDF)

5. Trigger the compression process for PDF files by tapping the "Start" button.


Fantastic Features of PDF Compressor


PDF Compressor is a clean program that has the most useful features you can demand in a compressor.

User Security

Any program, either online or downloadable, is useless if it doesn't assure user security. PDF Compressor respects user security and privacy. Downloads for PDF Compressor are junk and Malware free.

User-friendly Interface

PDF Compressor takes the users directly to the compression dialogue box so that you could start using it without wasting your time and energy. Select, compress, and save are the main steps for using this excellent desktop utility.

Batch Processing of PDF Files into Compressed Units

No one wants to waste their time-consuming tools. By having PDF Compressor, you can compress as many files as you want in a single shot. Select your PDFs and compress them instantly.

No Need of Adobe

PCs using Linux and Unix interface struggle for previewing PDFs because they are not supported in those environments. Linux and Unix users mostly use online tools for PDF files. PDF Compressor is a complete program allows, and it allows Unix and Linux users to compress their PDFs without Adobe Acrobat.

Superfast Processing

PDF Compressor has advanced programming algorithms which support minimalistic user interface with instant processing of commands. Even for more than hundreds of PDFs, it doesn't consume more than a few minutes.

Auto Unlock Restricted Files

PDF Compressor surpasses the restrictions imposed on PDF documents and compresses instantly. However, it does not make any changes in the basic structure of the PDF files.

Customization of Compression Ratio

Set compression values to meet your requirements. PDF Compressor compresses your files according to defined compression values.

If you want to compress your PDF documents, download PDF Compressor, and use it instantly.