Download & Compress PDF Files Now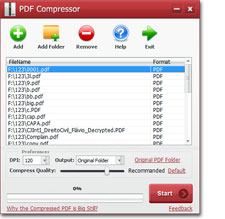 PDF Compressor
Product Version:
V5
OS:
Windows XP/2003/Vista/7/8/10 or Later (32/64 bit)
File Size:
14.6 MB
How to Use:
Click the Download button to download the installation file and install. Run the program and add your PDF files to start compressing.
Frequently Asked Questions of PDF Compressor (FAQ)
How to compress PDF files & reduce PDF file size step by step?
Why the compressed PDF file is still big, or even larger than before?
Why the compressed PDF pages are blurring?